ALL-SEASON TIRES ARE DESIGNED FOR BALANCED PERFORMANCE
An all-season tire offers a balance of capabilities, providing acceptable performance in wet and dry conditions, as well as traction in snow.
Built for the average driver, all-season tires have moderate tread depths and rubber compounds that are engineered to provide longer tread life than summer tires, which have shallower tread depths. All-season tires are offered in many types/models, sizes, load capacities, and speed ratings for use on a wide variety of vehicles from economy cars to sedans to minivans to pickup trucks. They tend to provide ride comfort, handling, and other performance attributes suitable for most drivers.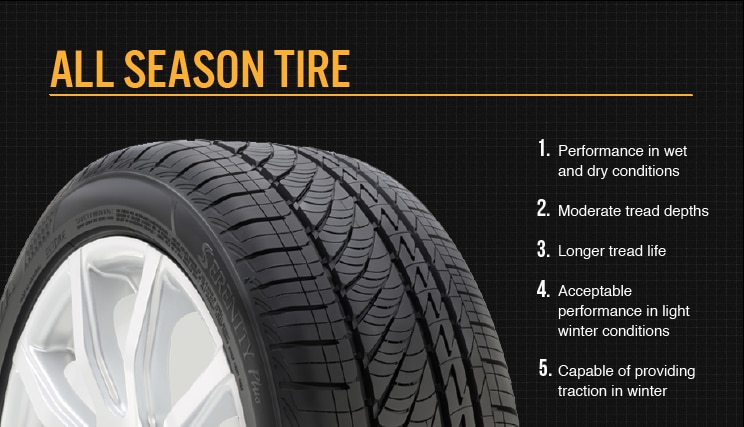 All-season tires perform well in warm weather, but they may offer less grip than summer tires, sacrificing some steering, braking, and cornering capabilities. This trade off is necessary for all-season tires to be able to provide acceptable performance in light winter conditions and provide longer tread life.
All-season tires are capable of providing traction in winter, but are not the best tire to use in extreme winter driving conditions. Drivers who encounter extreme winter weather may want to consider switching to snow tires in the winter.
Because all-season tires offer a blend of summer and winter performance, they are often a good option for drivers in moderate climates and driving conditions.
SUMMER TIRE DRIVERS PRIORITIZE PERFORMANCE ON DRY ROADS
Summer tires are ideal for high-performance vehicles, and are built for speed and agility. They offer increased responsiveness, cornering, and braking capabilities. This is typically attributed to specialized tread patterns and rubber compounds that allow for improved precision on the road. The tread patterns of summer tires have less grooving and put more rubber in contact with the road. They are design­ed to provide maximum road-holding grip. The tread compounds of summer tires are designed to remain more flexible, allowing for better traction and grip. Summer tires may have shallower tread depths that allow for more stability when pushed closer to their limits.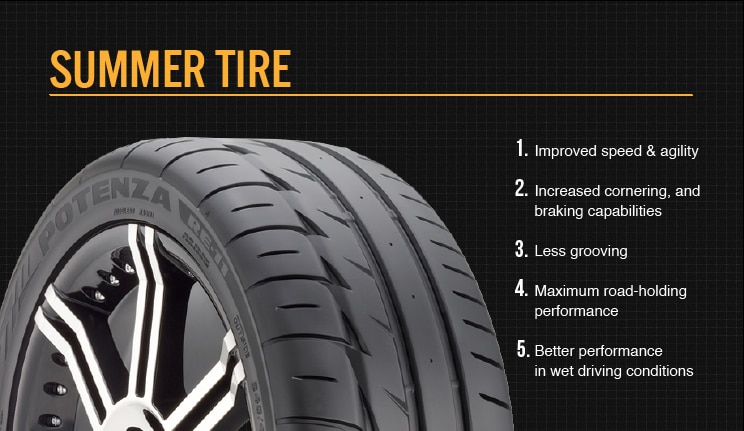 Dimensional characteristics (such as the tire's width, aspect ratio, and rim diameter), speed capability, and other design features make summer tires more suitable and capable for increased performance in wet and dry conditions on high-performance, sports-oriented vehicles. Surprising to some, summer tires such as our Potenza S-04 Pole Position provide better performance in wet driving conditions, thanks to unique tread patterns that help evacuate water and resist hydroplaning.
When it comes to winter driving, all-season tires may be more suitable than summer tires, given their blend of summer and winter performance capabilities, but we recommend considering making the switch to winter tires to get optimal traction and performance in extreme winter conditions.
CHOOSING THE RIGHT TIRE
Choosing the right tire isn't as simple as mounting a set and never looking back. When contemplating between a summer and all-season tire, consider your driving conditions, the climate you live in, and performance needs.
It is best that all tires on your vehicle are the same type of tire – such as winter tires, all-season tires, summer tires, etc. Your vehicle's tires should meet the manufacturer's recommended size, speed rating, load capacity, as well as any other recommended specifications.
Ready to find the right tire for you? Check out the Tire Catalog.